Math Train
Check the train
In this lesson, children will practice counting, and comparing quantities and sequence numbers by using the train cars.
30-45 min.
Beginner
Peuterspeelzaal-Groep 1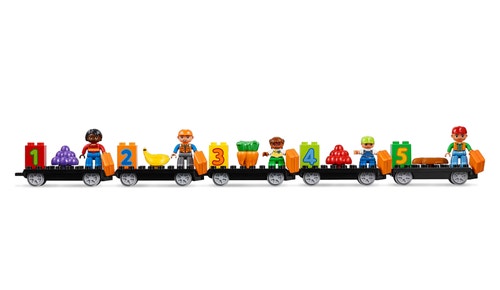 Connect
Explain that passenger trains transport people to different stops.
Ask the children if they have ever ridden on or seen a passenger train.
Encourage one or two children to share their experiences.
Ask the children to think about items passengers might need to take with them on the train (e.g., luggage, snacks).
Construct
Tell the children that they are going to build a passenger train.
Give each child a printed copy of a manifest and explain that the manifest lists what belongs on each train car.
Ask the children to choose a train car and to find the number brick, figure, suitcase, and food item from their manifest and place them on their cars.
Ask the children to look at each manifest and check each car to make sure that it is carrying the correct passenger, suitcase, and food item. Encourage them to
make check marks to indicate that all of the expected people and items are on the train.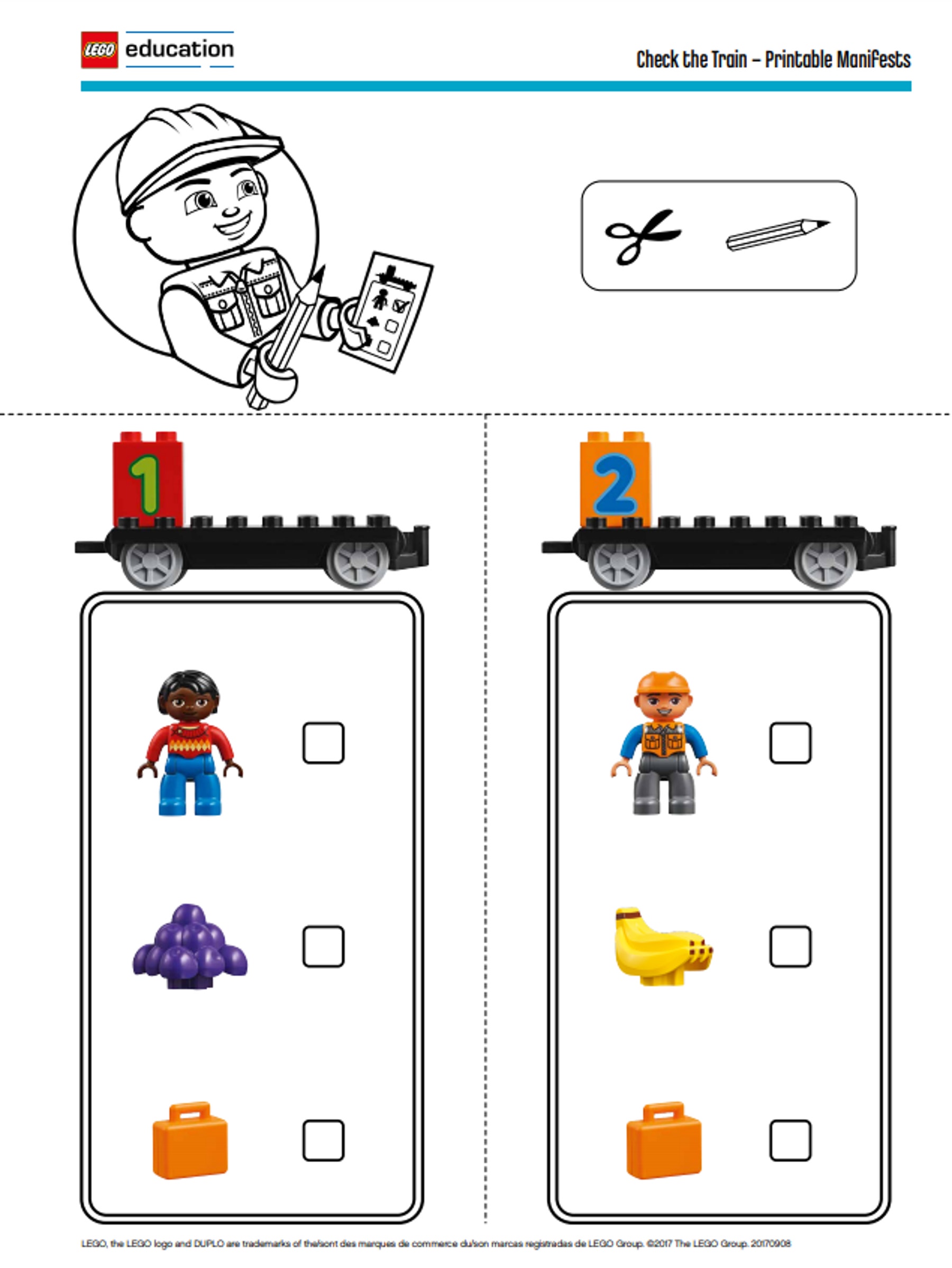 Contemplate
Facilitate a discussion about checking the train cars.

Consider asking questions like:
- How did you make sure each car had one passenger, one suitcase, and one food item?
- Why is it important to check the train before it leaves the station?
- What would happen if one of the passengers left without his or her suitcase?
- Are the train cars in the correct order?

As a group, count how many passengers, suitcases, and food items there are total.
Point out that there is the same number of each.
Continue
Ask the children to close their eyes, then rearrange the passengers and items on the train cars so that they do not match the manifests anymore.
Ask the children to open their eyes and tell them that the train is in chaos and needs to be sorted before it can leave the station!
Did you notice?
Observing the following skills can help you monitor whether the children are developing the necessary competencies in math.
Using mathematical terms, such as positional language, number names, etc.
Counting using number names, and beginning to recognize the number of objects in a set
Sequencing numbers or events
Ondersteuning voor de leraar