Make science and computing come to life
WeDo 2.0 makes primary school science and computing come to life through hands-on tasks, real-world projects, and relevant technology that engages pupils. Through project-based activities, pupils' skills are enhanced across science, coding, engineering and technology. The unique combination of the LEGO® brick, classroom-friendly software, and inspiring, curriculum-relevant science projects results in a resource that builds pupils' confidence. Empower them to ask the right questions, define problems, and design their own solutions by putting scientific discovery in their hands. WeDo 2.0 now includes eight exciting modules specifically designed to develop computational thinking techniques.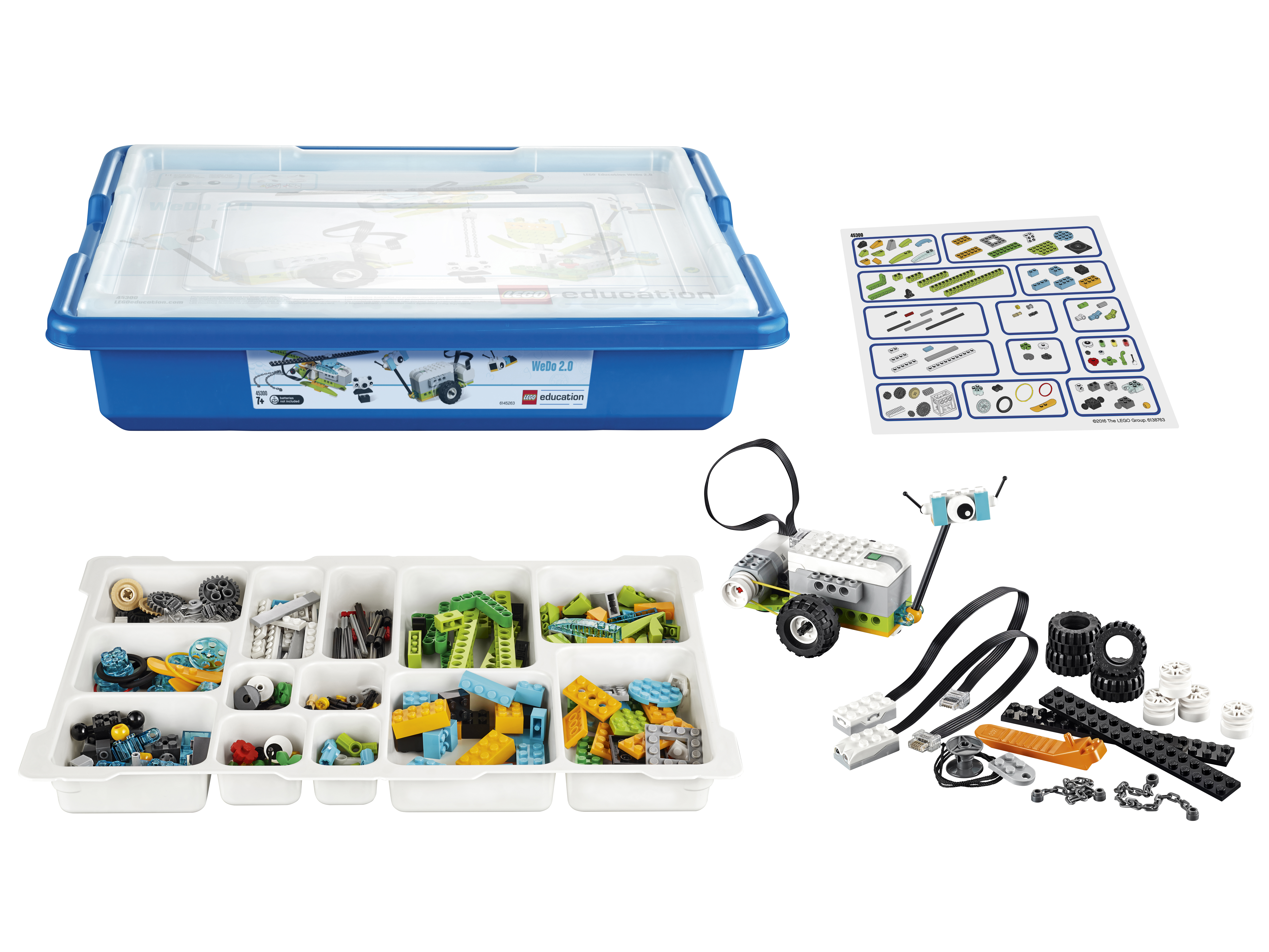 WeDo 2.0 Core Set
Age: 7+ | 2 pupils | 280 pieces

This set is based upon the latest science curriculum and was created to enhance pupils' curiosity and science and computing skills. The set is delivered in a storage box along with sorting trays, labels, a Smarthub, a Medium Motor, Motion Sensor, a Tilt Sensor, and enough building elements for two pupils. The accompanying desktop and tablet supported software provides an easy-to-use programming environment and includes the WeDo 2.0 Curriculum Pack, which covers life, physical, earth, and space sciences, as well as engineering. Please check the System Requirements to ensure your device(s) are compatible with the WeDo 2.0 solution before you purchase.
Software
The WeDo 2.0 software provides an excellent platform for science learning, offering an innovative way for pupils to model reality, conduct investigations, and use design skills. The software also teaches programming in an intuitive way – letting pupils bring their creations to life while sharpening computational thinking skills like logical reasoning, pattern recognition, and modeling simulations. The software also features a colourful drag and drop interface that is easy for pupils to use and understand.
Download Resources For Free
Everything you need to bring LEGO Education WeDo 2.0 to life in the classroom
LEGO Education WeDo 2.0 Software
Available for:







LEGO Education WeDo 2.0 Curriculum
STEM relevant curriculum addressing Science, Engernering and Computational Thinking
LEGO Education WeDo 2.0 eLearning
An online eLearning program taking you from complete beginner to classroom-ready
Key Learning Values
WeDo 2.0 strengthens pupils' understanding of science and computing practices, including asking questions and solving problems, modelling, prototyping, investigating, analysing and interpreting data, computational thinking, creating evidence based arguments, and obtaining, evaluating, and communicating information.
Develop your pupils' competencies through hands-on projects covering key science topics such as physical-, life-, earth- and space sciences, engineering and technology. Improve problem-solving, critical thinking, communication, collaboration and integrate the use of relevant digital tools to improve computational thinking skills.